web site:
Wreath Title, LLC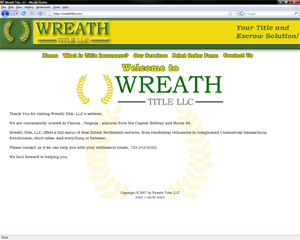 wreathtitle.com: I had a friend who worked here and he was tasked with building a website by the owner of the company. Having an AA in Graphic Design, he decided he would create the design and layout of the site and then hand the mock ups to me for converting to web pages. He emailed me the PDFs containing the mock ups and I got to work.
I exported what I needed to create the graphics for the site and created the rest using valid and semantic HTML and CSS. I tried to keep the code to a minimum while matching the layout as it looked in the PDFs.
While this site is still live, they have gone through a redesign since I built my version.